Trigger Tha Gambler - Life's a 50/50 Gamble
posted on Nov 01, 2005
Trigger Tha Gambler - Can You Feel It? (Link Expired)
Trigger Tha Gambler- Bust (Link Expired)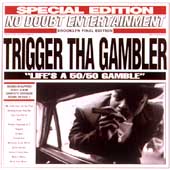 Trigger Tha Gambler
Life's a 50/50 Gamble
Trigger is an exceptionally skilled and intelligent rapper from the Brownsville section of Brooklyn who gained enormous underground acclaim for his collaborations with his real-life brother and rhyme partner Smoothe Da Hustler. The B-side burner and phenomenal display of back-to-back wreck and spectacular vernacular "Broken English" was the jam of the year in 1995. As a result, anticipation for Smoothe's solo album kept growing, perhaps peaking before the release date. Once Upon A Time In America (Profile, 1996) was received coolly, despite its diverse, thought-provoking subject matter and the masterful production effort of D.R. Period. This setback did not stifle the rising demand for Trigger's upcoming solo effort, which was nourished by guest appearances on albums by Blahzay Blazhay and Shyheim and then grew to astronomical levels after gaining significant airplay for his contribution to the soundtrack of The Nutty Professor (Def Jam, 1996) "My Crew Can't Go For That." This uncharacteristically mellow song won over listeners through an eerie vocal sample, moderately crunchy snares, D.V. Alias Khrist's addictive Hall and Oates-inspired chorus, and a spare twinkling piano sample. Trigger's unstoppable and articulate flow is the icing on the cake that makes the song one for the ages.
The success of "My Crew Can't Go For That" should have been a clue that a late-nineties Def Jam revival could be predicated on putting out music that only compromised artistic vision ever so slightly and only for the sake of quality and clarity. For some unknown and incomprehensible reason, Life Is a 50/50 Gamble never made it to retail, although promotional copies were sent to reviewers and a release date in March of 1998 was set. Judging from the low-quality mp3 version that I have procured, it's a damn shame. Trigger follows through on the promise of his first single to construct songs that range from impossibly raw crime sagas to highly danceable and recognizable adaptations of past club jams To Trigger's immense credit, he maintains his relentless Kool G Rap-derived rhyme style on every song regardless of mood or concept, and D.R. Period dips into an arsenal of rich basslines and dirty drums even on the songs that appear to be intended as singles.
The formula is quite effective. "Can You Feel It" flips Gwen Mcrae's happy-go-lucky post-disco cult classic "Funky Sensation" (perhaps taking a cue from the Lost Boyz), but manages to be no less gully than grim, remorseless forays into murder and mayhem like "Scandalous" or "Hitmen For Hire." It is difficult to tell whether or not this LP would have been a crossover smash but it is a balanced amalgamation of the conflicting "jiggy" and "grimy" musical and lyrical styles of the era. Additional highlights include the bouncy, fun, ign'ant "Bust" (where D.V. Alias Khrist violently interpolates, of all things, the chorus to the wedding/ Bar Mitzvah staple "Shout" by the Isley Brothers) and the sinister and melancholic pulp fiction of "Nickel Plated Nine." The contrived guest appearances from Foxxy Brown and Case neither add nor subtract from the album's overall quality, and in a sense, they lend credence to the idea that Gamble works in spite of label-imposed contraints. However you can hear it, make the effort to give this album a fair listen.
Track Listing
1. My Crew Can't Go For That
2. Nothing Could Stop Me
3. Can You Feel It
4. Bust
5. Broken Language Pt. 2
6. Rugged
7. Hit Man
8. Scandalous
9. Welcome To The World
10. 50/50 Gamble
11. Nickel Plated Nine
12. Make A Move
13. Meet Your Maker
Comments for "Trigger Tha Gambler - Life's a 50/50 Gamble"